结语激光发布的聚变激光系列新的工作管理软件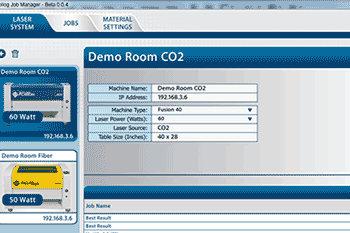 " Part of success in the engraving industry is perfecting laser parameters and maximizing your materials and time at the machine – the Job Manager gives customers a great opportunity to develop a customized workflow processing system that allows them to get the most from their Epilog Laser system."

Mike Dean, vice president of sales and marketing for Epilog Laser
结语激光,领先的设计者和CO的制造商2和光纤激光雕刻,切割和标记系统,最近推出了新的工作管理软件,让客户和激光运营商可以大大提高他们的激光材料加工流程。
The current version was designed for the Fusion Laser series and can be downloaded at epiloglaser.com/tech-support/fusion-drivers.htm.
"The Job Manager, exclusive to Epilog Laser systems, is a revolutionary feature that not only gives laser users access to job time recorders, a materials database and much more, it essentially allows them to create their own custom file structure to strengthen their engraving processes and reduce downtime," said Mike Dean, vice president of sales and marketing for Epilog Laser.
Epilog's Job Manager also features:
• Permanent Job Storage – permanently store an unlimited number of jobs.
• Job Recording – Automatically record all of your jobs and laser parameters.
• Project Time Stamp – Date and time is recorded for each laser job.
• Organize and Search functions – Create and name an unlimited number of folders and subfolders and interactively search for past projects.
• Multiple Machine Database – Perfect for those with numerous laser systems connected to one computer.
• Materials Database – A full materials database including laser processing parameters for common materials.
• Print Preview – Zoom in and preview every pixel of every job – you can even review and edit laser parameters and print from the preview screen!


"We're excited to be able to offer this intuitive new software to our customers," Dean said. "Part of success in the engraving industry is perfecting laser parameters and maximizing your materials and time at the machine – the Job Manager gives customers a great opportunity to develop a customized workflow processing system that allows them to get the most from their Epilog."
有关详细信息,请联系:
Amy Dallman
市场营销专员
Epilog Laser
+ 13032771188
人气页面